The aircraft:
The Yeoman YA-1 Cropmaster was a development of the Kingsford Smith Aviation Services KS-3 Cropmaster (which was an agricultural conversion of the CAC Wackett Trainer), featuring a major redesign and retaining only the steel-tube fuselage frame of the CAC Wackett Trainer.
The Cropmaster went through several developments during its service life, the final version featuring an all-metal wing and all-metal empennage.
The drawings:
This set of detailed drawings (originally drafted at 1:48 scale) shows the development of the Cropmaster from its initial YA-1 configuration through to the final YA-250R production version.
Plate 1. Side elevations
The first plate shows side elevations of several versions of the cropmaster:
YA-1 Cropmaster 250 (first version with the Wackett trainer empennage, wooden wing and fabric-covered aft fuselage sides)
YA-1 Cropmaster 250 (production version with all-metal wing, all-metal empennage, fibreglass aft-fuselage sides and Lycoming engine)
YA-1B tricycle undercarriage proposal (never constructed)
YA-1 Cropmaster 250R (production version with Continental engine)
Click on the thumbnail above to open a PDF file.
Plate 2. Plan view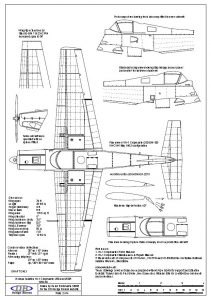 The second plate shows a plan view of the YA-1 Cropmaster 250 production version (Lycoming engine) as well as several scrap views showing extra details.
Plate 3. Structural details
The third plate shows a front elevation of the YA-1 Cropmaster 250 (Lycoming engine) as well as structural details.
Plate 4. Additional side elevations
The fourth plate shows a front elevation of YA-1 Cropmaster 250R (Continental engine) as well as side elevations of several different version:
Yeoman 175, a modified Wackett Trainer used as a test-bed for the new cockpit canopy and all-metal empennage
Yeoman-Hanes 250, a 3-seat modification of the Cropmaster
Yeoman Cropmaster 300, a proposed larger and more powerful version of the Cropmaster which was never constructed
If you download these drawings, you agree to use them under the Creative Commons Attribution Share-Alike 3.0 Unported License.
Click here for a full description of this license, but in summary it means that you are free to copy, distribute and adapt these drawings on the conditions that you attribute their creation to me and that if you adapt and distribute them you must also license the adapted versions under the same conditions.
You may seek my permission to waive any of these conditions (if, for example, you wish to publish the drawings in any form) by sending me an email.